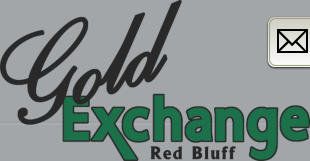 Metaphysical Products
Explore Your Spiritual Side
The Gold Exchange also offers an array of metaphysical products
and services. We carry our own line of spiritual jewelry called
Angels Among Us utilizing the spiritual aspects of minerals and
gems. Pendulums, chakra stones and crystals of every shape and
size will delight your senses. Try our new foot reflexology crystal
clusters, get your aura picture taken or try on some cool color
therapy glasses designed for your overall health and wellbeing.
COLOR THERAPY GLASSES
SPIRITUAL CARD DECKS
POCKET STONES
SAGE & PALO SANTO FOR CLEARING
AMETHYST & CLEAR QUARTZ CLUSTERS
PENDULUMS
CANDLES
VITA WATER BOTTLES
DRUMS
CRYSTAL BOWLS & TRIANGLES
RAKU MAGNETS & MEDALLIONS
BATH SALTS & SPA TREATMENT ITEMS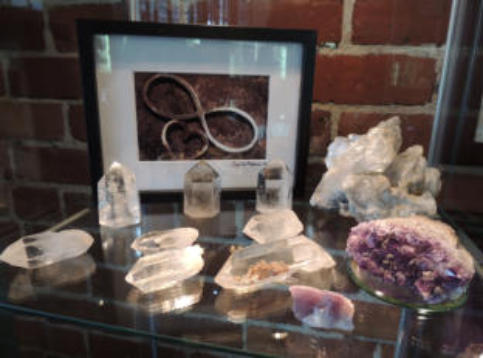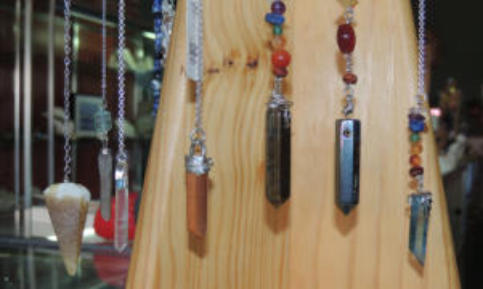 Spiritual Jewelry
Wearable Art
Original and one of a kind jewelry focusing on the spiritual
attributes of minerals and gemstones. We're meant to have
unlimited energy, be able to tap into our creative talents easily,
and live a life of love, joy and peace. It is possible to have all of
this once we turn inward, allowing the natural balance of energy
to flow through our "Spiritual Batteries". Utilizing chakra
alignment jewelry, you can easily balance and refresh your
spirit.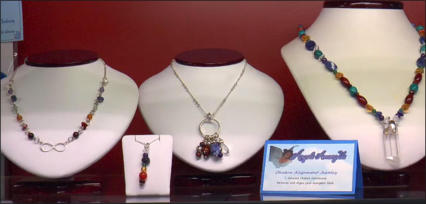 *Physical Address: 413 Walnut Street, Red
Bluff, CA 96080 *Phone: 530-528-8000
(MAP)
*Physical Address: 413 Walnut Street, Red
Bluff, CA 96080 *Phone: 530-528-8000
Tools for your Spiritual Growth